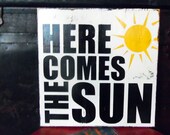 Here Comes the Sun Distressed Wooden Sign
The perfect design for patios, lake homes or sun rooms.
Our signs are hand painted and carefully distressed for that perfect combination of vintage and modern design. Our pieces will look exceptional in any decor. They will never go out out of style and are created to last a long long time. We customize the colors for you at no extra charge. Co...
Click Here to Visit My Etsy Shop!