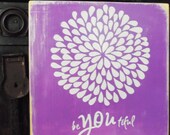 Purple BeYOUtiful Distressed Wooden Sign
This sign is perfect for the young girl in your life. We often forget to reinforce this message to stand out and not try so hard to fit in. BeYOUtiful will remind them daily how wonderful it is to just be themselves.
Our signs are hand painted and carefully distressed for that perfect combination of vintage and modern design. Our pieces will look exc...
Click Here to Visit My Etsy Shop!